Is Dental Fear Real
Posted by Streamside Dental on Aug 11 2021, 06:59 AM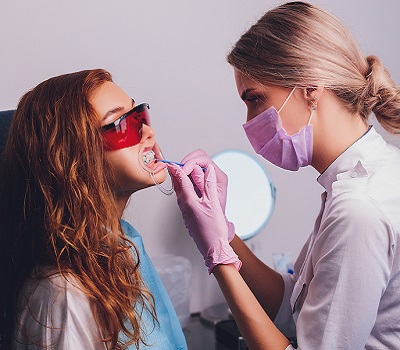 Dental fear, otherwise known as dentophobia, is the fear of anything relating to dentistry. According to a studyon the prevalence of dental anxiety in dental practice settings, anywhere between 50% and 80% of adults in the United States have some degree of dental anxiety, ranging from mild to severe. 
What is more alarming is the fact that more than 20% of people dealing with dentophobia do not visit a dentist regularly, and somewhere between 9% and 15% of them completely avoid visiting the dentist altogether. 
So, dental fear is real and quite common. If the thought of visiting a dentist scares you, visit our gentle dentists at Streamside Dental in Vail, Colorado. They are experienced in treating patients with dental anxiety.
Read on to learn more about dental fear and how to overcome it.
Recognizing Dental Fear
The first step towards solving any problem is to recognize and acknowledge it. You may have dental fear if you have one or more of the following symptoms:
Emotional signs: Experiencing fear, anxiety, panic, or apprehension towards the dental procedure.
Physiological signs: Breathlessness, increased heart rate, nausea, sweating. 
Tips to Overcome Dental Fear
Find the right dentist and talk to them about your fears and concerns
Know that you are not alone
Ask a friend or a loved one to accompany you to the dentist
Limit your caffeine intake before a dental visit
Schedule early morning appointments
Read up about the dental procedure beforehand
Ask for sedation/anesthesia whenever required
Pick a dentist close to where you live or work so that you can schedule your visits more conveniently
Practice breathing exercises
Do yoga/meditation if it helps calm you
Listen to music/podcasts or distract yourself to stop thinking about the upcoming dental visit
Practice Good Oral Hygiene Habits
Practicing good oral hygiene habits and making your dental health a priority can help prevent dental issues before they aggravate and help you avoid requiring dental procedures. You should: 
Brush twice a day for at least two minutes
Floss your teeth every day
Visit a dental clinic once every 6 months for a routine checkup or a dental cleaning
On the other hand, if you are suffering from a toothache, tooth sensitivity, or bleeding gums, delaying your visit to a dental clinic because of dental fear might lead to more serious problems and more dental visits in the long run. 
To learn more about dental fear and how to overcome it, call Streamside Dental at (970) 306-0549 or visit us at 4592 Streamside Cir E, Vail, Colorado 81657.